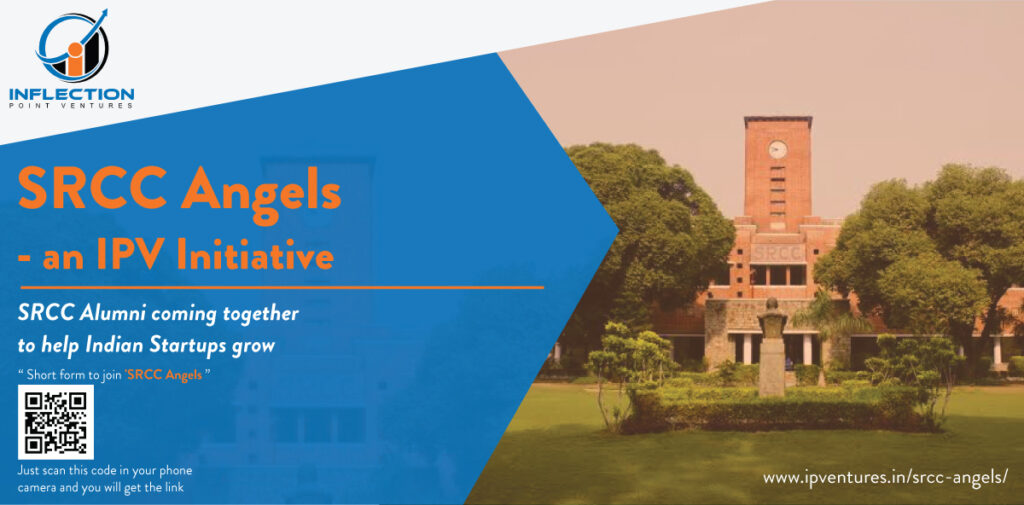 SRCC Angels – An IPV Initiative
(Form to join SRCC Angels – https://forms.gle/H3kJ4hxyQsa5dNjZ8)
All top educational institutes around the world, like Harvard, MIT and Stanford. have alumni based angel investment groups, where the alumni join forces to invest in startups while forging deep bonds within its alumni network. If all these institutes can have such groups then why should SRCC be left behind?
Inflection Point Ventures (IPV), India's leading and fastest-growing Angel Network has created a specially curated group of 'SRCC Angels'. This will provide a platform to the SRCC Alumni community to invest in startups with ease through our digitised platform.
Special Benefits for SRCC Alumni
Networking beyond SRCC Alumni: Improve your bonding with not only SRCC's Alumni but also get a chance to network with 400+ investors who are mostly CXOs and HNIs from across the globe having expertise in diverse fields.
Leverage technology to invest in startups: Invest in startups through the comfort of your home. The member group is digitally connected and deals are evaluated online, making the group, location and region agnostic. The entire life cycle of an investment can be experienced and evaluated through our digital platforms.
Exponential returns through minimised risks: Each deal goes through deep due-diligence overseen by two vastly experienced IPV partners along with a lead analyst. Out of the 900 start-ups that approached us, we have invested in just 24 startups (3%), which shows the extent of diligence we show while investing.
Low ticket size for first-time investors: IPV provides a platform for first-time investors by keeping a low minimum investment amount of ₹2.5 lakhs per startup. 100+ investors have made their first angel investment through IPV platform. At the same time, IPV also advises investors/family offices who want to make bigger investments.
Experience the IPV way of investing for FREE: As per our agreement with SRCC Alumni Committee, membership to the exclusive 'SRCC Angels' Investing Group will be free for the first 6 months. Please fill the short form in this link to join the platform https://forms.gle/H3kJ4hxyQsa5dNjZ8.
IPV Beliefs
Personalised Connects: The success of a startup depends on both – the idea & the ability, experience, aptitude and attitude of the co-founders. This is why IPV believes in personal interactions with the startup co-founders in which it plans in investing.
Mentoring Startups: IPV doesn't believe in just funding startups. Through its vast investor group of 400+ members, coming from rich experiences in diverse backgrounds, IPV believes in mentoring startups towards their growth.
Detailed Due-Diligence: IPV believes in detailed due-diligence to avoid reacting to artificial scarcity/demand created by the founders/other angel networks.
Transparency: IPV maintains complete transparency around valuation, personal interest (if any), findings of the due diligence process.
Sunny Girdhar from SRCC Alum network is leading this initiative with IPV. Please call him for any further information at +91-9999678057 or mail him at sunnygrdhr007@gmail.com
For any assistance from the IPV team, please reach out to Chaitanya (+91-9417886105 or chaitanya@ipventures.in)
Other Related Articles